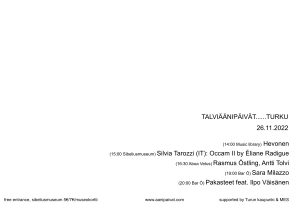 14:00 Hevonen – Music library
Hevonen is Timo Viialainen & Jean-Michel Kampara
15:00 Silvia Tarozzi (IT) -Sibeliusmuseum
Silvia Tarozzi – violin
-Éliane Radique Occam Ocean – Occam II, for violin
-Improvisation for violin in 1/16th of tone
16:30 Rasmus Östling -Aboa Vetus Ars Nova
17:00 Antti Tolvi -Aboa Vetus Ars Nova
19:00 Sara Milazzo – Bar Ö
20:00 Pakasteet feat Ilpo Väisänen
Pakasteet is Mika Taanila & Jussi Lehtisalo
—–
Silvia Tarozzi concert you need to buy entrance ticket to Sibeliusmuseum 5€ / 7€ / Museokortti
Other concerts are free.
Supported by: Turun kaupunki & Musiikin Edistämissäätiö
something  ? Ask from Antti -> tonttutalvi(äät)yahoo.co.uk
Welcome!!!
---
::PAST::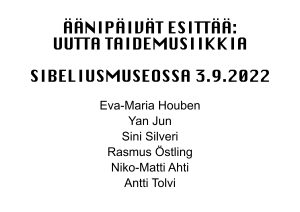 ---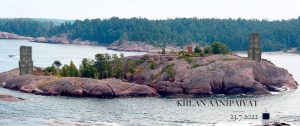 15:15 Minerva Juolahti (Forest)
16:10 Timo Tuhkanen (Beach)
18:30 Varjo-Riitta (Westers)
19:30 Tuomas Toivonen (Westers)
20:30 Living organ (Kiilojen Talo)
21:00 Dmitri Zherbin (Kiilojen Talo)
21:30 Sauna, barbecue, sleep.. (Kiilojen Talo)
Main/starting place is Westers cafe/garden
Suomenkulmantie 1255
25760 Kiila, Kemiö Island, Finland
All concerts happens outside, so consider this how to get dressed.
We have camping area (also floor sleeping inside the sport house is possible, one room for everyone so camping might be nicer and is recomended.) with Sauna, grill and kitchen. Kiilojen urheilutalo. 0€
We have vegan/vegetarian dinner at Westers + drinks/coffee for sale.
We start at around village, and  move slowly towards Kiilojen talo where last shows happen.
Later at Kiilojen talo we dont have alcohol/food/coffee for sale. Mayby some non alcohol drinks.
Something in your mind? ->  tonttutalvi(ät)yahoo.co.uk
WELCOME!!
History: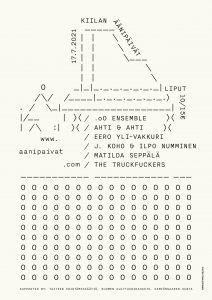 Ahti & Ahti
Matilda Seppälä
(/w Elsa Pakkasvirta, Juho Keränen)
J. Koho & Ilpo Numminen
.oO Ensemble
(Tero Niskanen, Sini Silveri, Antti Tolvi)
Eero Yli-Vakkuri The
Truckfuckers
(Lauri Hyvärinen, Tommi Keränen, Tanja Tiekso)
2020 ONLINE Special!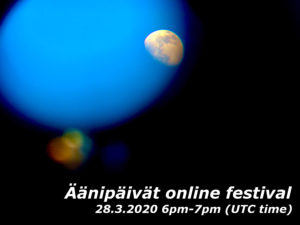 Festival is about one hour long. We have 12 sound art / experimental music performances (about 5 min each)
coming around the blue planet.
Live sets will be steamed though Kiilan Äänipäivät facebook site.
www.facebook.com/aanipaivat
This all happens on this very saturday 28/3/2020 UTC 6pm-7pm.
Line up:
Antti Tolvi FI
Casey Moir S/AU
John Grzinich EE/US
Keränen FI
Lime Rickey International US
Maria Bertel DK
MSHR US
Rie Nakjima UK/JP
Tobias Kirstein DK
Xiang Li CN
Yan Jun CN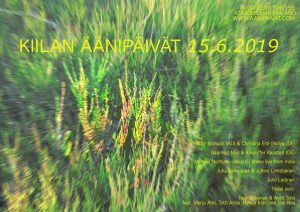 Lintukonsertti: Juha Valkeapää (FI) & Juhani Liimatainen (FI)
AUTO: Tero Niskanen (FI) & Antti Tolvi (FI) Performed by Marja Ahti, Tytti Arola, Hanna Klén and Lau Nau
Juho Laitinen (FI)
Michael Northam (US) online live from India
Trophic Verses: Felicity Mangan (AU) & Christina Ertl-Shirley (DE)
Trivial zero (FI)
Ragnhild May & Kristoffer Raasted (DK)
Supported by: Taiteen Edistämiskeskus, Suomen Kulttuurirahasto and Kemiönsaaren Kunta.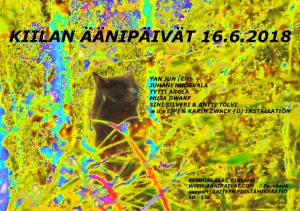 YAN JUN (CH)
JUHANI NUORVALA
TYTTI AROLA
MUSA DWARF
SINI SILVERI (FI) & ANTTI TOLVI
Installation:
a u s (JP) & KARIN ZWACK  (D)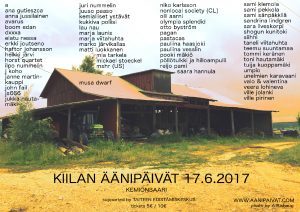 39 x 5 min performances
2 x sound installations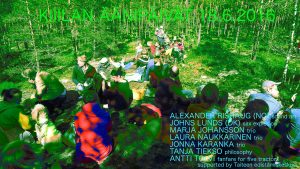 Alexander Rishaug (NO)
Johns Lunds (DK)
IAX
Tanja Tiekso
Antti Tolvi
J Koho
John Grzinich (US)
Sami Klemola
Ilpo Numminen
Murmer (US)
Keränen
Jooklo duo (IT)+fin quartet)